Southern California Soccer Officials Association
San Diego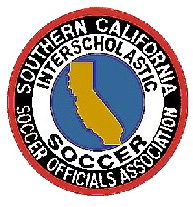 SCSOASD & Relevant Contact Information
The table below is contact info for various specific individuals involved with SCSOA-SD. For specific referee contact email addresses you must be an SCSOASD member of ArbiterSports.com and visit our on-line assignment program.
Our Current Leaders
President — Bob Petterson (1997 thru Present)


Vice President — Pete Aufsesser


Treasurer — Paula Miller


Secretary — Jesus Acevedo


Director-at-Large — Jack Dobransky


Director-at-Large — Hugo Rios
For Information send an email to: scsoasd@yahoo.com
A list of relevant names and contact lists.
| Name | Position | Phone # |
| --- | --- | --- |
| Bob Petterson | President | 858–695–0596 |
| Pete Aufsesser | Vice President | 619–922–6177 |
| Paula H. Miller | Treasurer | 858–967–8049 |
| "Jesse" Acevedo | Secretary | 619–392–6200 |
| Leanne Harris | Assessor | 760–518–2577 |
| Tom Phillips | Instructor | 619–313–2275 |
| Dennis Wickham | Instructor | |
| Jim Zerkle | Instructor | 858–229–3114 |
| Art Mitchell | Assignor ** | 800–276–5308 |
| Arnold Baldeaux | Assignor ** | 619–957–8350 |
| Scott Fontaine | Assignor ** | 858–204–5756 |
| Jesus Sanchez | Assignor ** | 760–427–7821 |
| Hugo Rios | Director-at-Large | 619–992–1005 |
| Jack Dobransky | Director-at-Large | 619–733–8071 |
| CJ Read–Jones | Online Webmaster | 858–405–3070 |
Important SCSOA Addresses
SCSOA President
9683 Tierra Grande Suite #101 San Diego, CA 92126-6503



SCSOA Treasurer
6615 Soaring Dr San Diego, CA 92119 (Payments or fees)
Important CIF Sites
Local referees associations
National & International Referees Associations
© SCSOASD All rights reserved 2018-2019
---
---